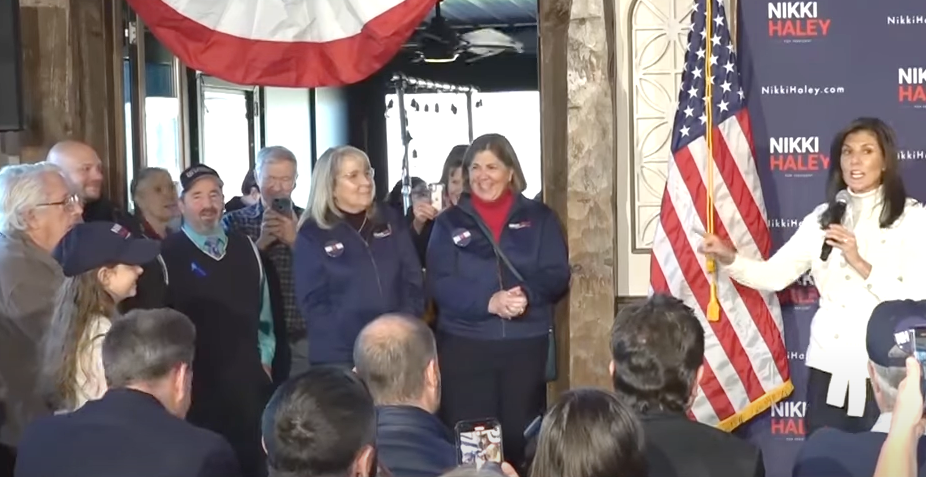 Republican presidential candidate Nikki Haley took questions at a campaign stop in Hooksett, New Hampshire today, about two months away from the primary election there in January next year. One of the questions came from a young girl in the crowd who was wearing a Nikki Haley hat, and Haley seemed happy to see such a young supporter. 
While former President Donald Trump remains dominant in the polls for the primary contest, Haley has been polling in second place at 18 percent in New Hampshire, where her campaign hopes to break through.
Haley is still down almost 30 points compared to Trump though, who's polling at 46 percent, so seeing somebody sporting a supportive cap shouldn't have been anything but a good sign for her in Hooksett.
"I love your hat," Haley said to the girl.
"Thank you," the girl replied, pausing for a beat.
"One of your guys gave it to me for free."
Haley was mocked online for the moment, particularly by Trump supporters who view Haley, who was Trump's UN secretary, as betraying the former president by running.
"Please clap," joked one, a reference to a viral moment where Jeb Bush seemed to beg for any form of acknowledgment during the 2016 primary which he lost to Trump.
"Priceless honesty," said another, picking up on the theme others also hit on that kids will tell you the truth even if nobody else will.
Others just memed the moment, which drew a loud bellow of good-natured laughter from the crowd at the event.
Haley went on to tell the girl she looked "cute in it," and then answered a question from her about her first act in office.
"Strong girls become strong women, strong women become strong leaders," Haley started, before saying she would send people into every federal agency to "clean it up" and eliminate bureaucracy.
Haley has been campaigning with New Hampshire Gov. Chris Sunnnu (R), since the beginning of the month. In August he wrote a New York Times op-ed saying he planned to "endorse and campaign for the best alternative to Mr. Trump."
With almost every candidate challenging Trump running far behind him, maybe he'd be better off backing some random 9-year-old girl.
"Kids are so unintentionally savage," reacted @DaWhiteWolf1776. "They must be protected at all costs."
Sign up to receive the Daily Dot's Internet Insider newsletter for urgent news from the frontline of online.
The post 'One of your guys gave it to me': Internet cheers 9-year-old who roasted Nikki Haley over campaign swag compliment appeared first on The Daily Dot.
---
...:::Search Fidelity Content:::...